This website uses cookies. By continuing to browse the site you are agreeing to our use of cookies.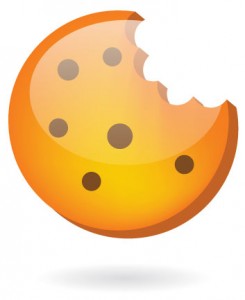 You've probably seen this message many times whilst online and wondered, what is a computer cookie? So hopefully this article will help to explain what they do, where they're stored and dispel some of the myths surrounding them.
The best way to describe a computer cookie is to give you an example:
Let's say I'm using Internet Explorer to browse the web and my homepage* is www.bbc.co.uk. As soon as I open Internet Explorer I receive 2 BBC cookies. I then go to the weather section receive another cookie and the cookies I already have are up-dated too. I set my favourite weather region to Gloucester, save this preference and the weather cookie is updated.
So within a minute or so of visiting the BBC site I have obtained 3 cookies.
When I close Internet Explorer the cookies remain stored on my computer in a system folder that's usually hidden from view. Because I chose to accept cookies when I visit the BBC weather page again the forecast showing the weather for Gloucester will load. If I remove all cookies from my computer and visit the BBC site again, it will load the default/standard unpersonalised version of the site.
Cookies therefore help to enhance the browsing experience of visitors to a website making it appear more personal. They are unique to each site and store preferences and monitor surfing habits. They're not especially easy to find on your computer but they don't take up much room and are easy to remove. Not all cookies are permanent; some are only stored in memory for a temporary period and removed when a browsing session has ended.
Despite all the fuss a cookie is simply a small text file that makes no particular sense if you open it. They consist of various digits and numbers and look something like this:
gaGa1.2. 786853704. 8475035738izsearch.com/574625018982752-0284022750
(This is part of a cookie that was stored on my pc when I visit the izsearch.com site).
A cookie is just text and therefore on its own isn't malicious but because they can be used to track online habits they can be seen as intrusive and so, since 2011, UK law has stipulated that sites must give users the option to refuse acceptance of cookies, and thats why you see the above message when you visit a site you havent been to before.
I hope this helps to explain cookies for you but if you have any questions please feel free to contact me below.
*A homepage is the start-up page you see when you open your browser.