Welcome to the first Computer Cookie newsletter!
In this edition I will give you a brief tour of Windows 10 the latest operating system from Microsoft that is due to be launched this year, you can find out how to add an email contact to your safe senders list in your email program and also read how technology is helping bees.
I hope you enjoy reading all the articles.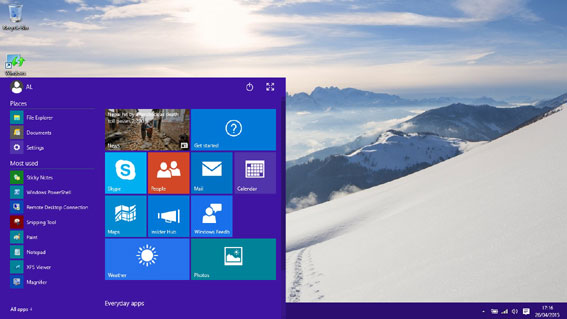 Reports are that the latest operating system from Microsoft is due to be released sometime during 2015 and in an attempt to give the appearance of a fresh start they're calling it Windows 10, skipping Windows 9.
Maybe to win back the confidence of users who were frustrated with 8, Windows 10 will be available as a free upgrade from Windows 7 or 8.1 during the first year after launch, if not purchased with a new machine. Also, it will continue to be updated for the lifetime of the computer or device it's installed on, doing away with the need to update the system every few years so that any new features will be added via automatic updates.
I've been test driving the free technical version for a few weeks now and think it is a reasonable improvement on Windows 8 and 8.1.  Take a tour of the new system and read what I my first impressions are.
In my introductory email sent a few weeks ago I mentioned that to ensure my newsletters didn't end up in your spam or junk folder you could add my email address to your safe senders list. The simplest way to do this is to add me to your contacts list.
To find out how, go to this blog: How to Add a New Contact to Your Contacts List.
Bees with backpacks: how miniature technology is monitoring bees.
We've all heard over the last few years reports in the news that bee populations are declining.  As this could have an impact on future food production around the world there are many studies attempting to find out the reason for the decline.
One of these studies is taking place at The Royal Botanic Gardens, Kew.  Working in collaboration with Tumbling Dice, a software company based in Newcastle Upon Tyne, they have developed a miniaturised microchip tagging device that attaches to the back of a bee enabling researchers to track its activity when within a 1.2 diameter range of a detector unit.
To attach the chip the bees were chilled for around 10 minutes to make them docile and then using standard superglue the tags were fixed in place.
This new technology is being trialled in Kew's Quarantine House and it is hoped that in the future it could be used in the wild to help scientists unlock the secrets of how bees live and work and in turn, find out why their numbers are dwindling.
And finally…
Sometimes computers can be just a little frustrating. A man in Colorado Springs took his into an alley and shot it eight times, which gives new meaning to the phrase Complete System Failure!
Read this story on the BBC US News website.
There is a better solution: if you find yourself at your wits end give me a call on: 01452 506529.